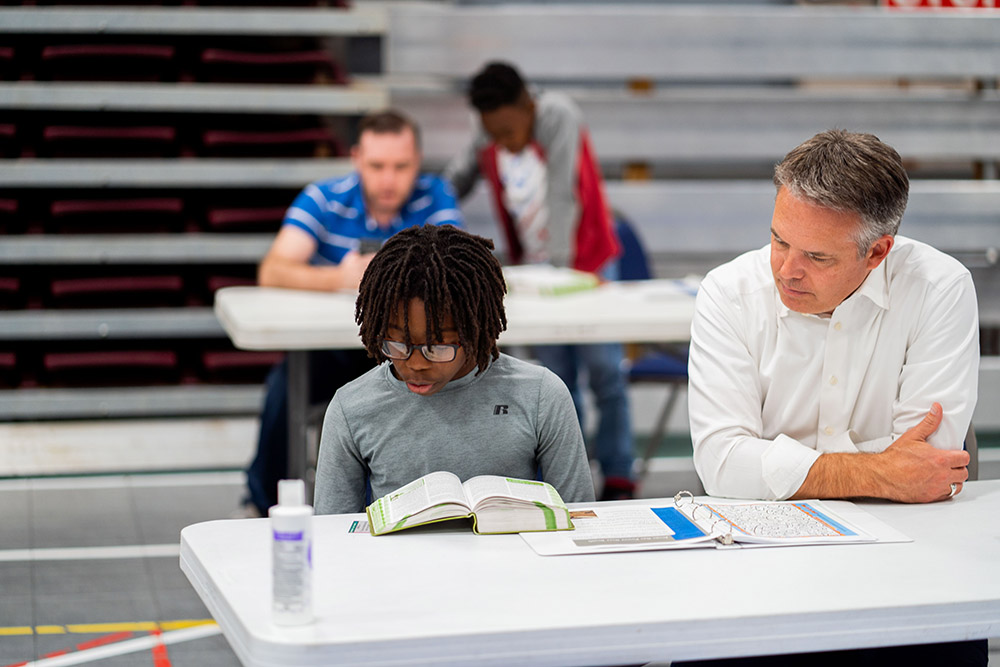 July 12-14; 19-21; 26-28 | 5:30PM-7:30PM
Summer Mentoring Program
Can you give 3 nights this summer to invest in an under-resourced youth? This is a short-term mentoring experience: mentors meet with their mentee for one week, two hours per evening, Tuesday – Thursday. 
What
As a mentor, you will spend valuable time with your mentee in Bible study, taking field trips, doing arts and crafts, and just having fun.
When
Summer 2022 Mentoring Program dates are listed below (select one):
Tues – Thurs, July 12-14, 5:30 – 7:30 p.m.
Tues – Thurs, July 19-21, 5:30 – 7:30 p.m.
Tues – Thurs, July 26-28, 5:30 – 7:30 p.m.
Who
STEP Literacy Camp serves the children of The Homes at Pines Crossing (formerly Eastgate Terrace), a public housing project. It typically serves between ten and fifteen children. 
What
STEP Literacy Camp targets elementary-school age children who need help improving their reading skills. Trained tutors work with students, one-on-one, for three reading sessions per morning for ten days. Students are served breakfast and lunch and enjoy a Bible story, game time, and arts and crafts. 
How
Tutors use the Reading A-Z curriculum, which is an easy-to-use program utilizing student specific readers, reading comprehension exercises, and journaling. A one-hour training session is required. Strong bonds are formed between tutor and student by the end of the ten-day camp.
When
Monday – Friday, August 1-5, 9 a.m. to noon
Monday – Friday, August 8-12, 9 a.m. to noon
Volunteers may serve two weeks, one week, or substitute where needed.
Celebrate!
On the last day of camp, a completion ceremony takes place, allowing tutors to speak positive, encouraging words over their student. Each child receives a completion certificate, a picture of themselves with their tutor, and an armload of books to take home. The day ends with pizza and cake.